An Imperfect Love Story (Episode 20)
Episode 20
The episode start with haya wake up in morning and saw arjun sleeping she was hugging him she smile when she realized that she is on bed and thought that arjun must have put her on bed as she was sleeping on floor then she remembered whatever happened last night this last 12 hours changed her life completely she was thinking about all this then suddenly she start feeling hungry and just then arjun wake up seeing arjun awake haya immediately try to get up but arjun didn't let her go as he was holding her from waist he pull her back and tighten his hold and said
Arjun:where
Haya:out
Arjun:out where
Haya:in kitchen
Arjun:why
Haya lower her eyes and said
Haya:I'm hungry
Arjun smile and said
Arjun:go then and make bf for me too saying this he released her from his hold and get up from bed and gone in washroom haya too get up and gone out she came in kitchen and make bf after making bf she came back in room tip toe she saw arjun was not there and she silently came toward her bag and open it but to her shock there was nothing not even a single cloth she can wear except her wedding dress haya came toward cupboard it was 8 door cupboard she open it but there was nothing too and she said to herself
Haya:where the hell my clothes are saying this she open every door but couldn't find anything she give up and sat on bed just then arjun came and put lots of shopping bags in front of her she looked at arjun and then at shopping bags and arjun said
Arjun:ur clothes
Haya:its not mine clothes its new
Arjun:yeah its new and now its urs clothes from now u will wear clothes of my choice which r in this bags and nothing else beside this
Haya:what if I refused
Arjun bend and came close to haya she was almost lying on bed she took the support of her elbow and arjun was only an inch away from her then he said
Arjun:I think u r forgetting what I said last night if u refused then the punishment will be long and bad for u but let me clear one thing it will be with love now I hope u got it what I meant babe saying this he kiss on the corner of her lips and haya immediately closed her eyes feeling his lips then arjun looked at her and smile seeing her nervousness and then came toward door he open the door but before going he turn and said
Arjun:come out fast after getting ready and put ur clothes in cupboard but after bf because I'm hungry saying this he left and haya open her eyes slowly she looked toward the door and then at shopping bags it was minimum 100 bags beside that there were more she thought to look later and immediately gone in washroom she took a quick shower and came out of washroom she took one bag and there was saree she wear it and came out immediately arjun was amazed seeing haya in Vivacious Navy Blue and Off White Saree she served bf to him and then was going to sit far away from him but he hold her hand and make her sit beside him then both had bf and arjun said
Arjun:be ready tonight there is a party in hotel
Haya:party
Arjun:yes
Haya:but why
Arjun:to celebrate our marriage jaan as Alan has already arranged everything saying this he smile and haya who was drinking juice spit it out in shock haya couldn't believed what she just heard and then arjun said
Arjun:I'm going office be ready at 8:00 ok
Haya was shocked and because of that she didn't hear arjun she was thinking what will happen when she will face Alan arjun saw her lost and came close to her and said
Arjun:what happened
Haya looked at arjun and remembered what Alan said that he will harm arjun she get scared on the thought of losing him arjun cupped her face and said
Arjun:r u ok
Haya came in sense and nod in yes and turn her face to other side arjun get up and left then after bf haya came in room and saw shopping bags she came and put the bags on bed then she took out the clothes and put them in cupboard it was almost every type of clothes desi and western there was not even a single type of cloth left and same for jewelry he had brought every type of jewelry then after putting everything on its place at last she saw a small and last bag she took it and there was a heart shape box in it she open the box and there was a beautiful mangalsutra and small box of sindoor (I'm giving the link of the photo which mangalsutra I chosen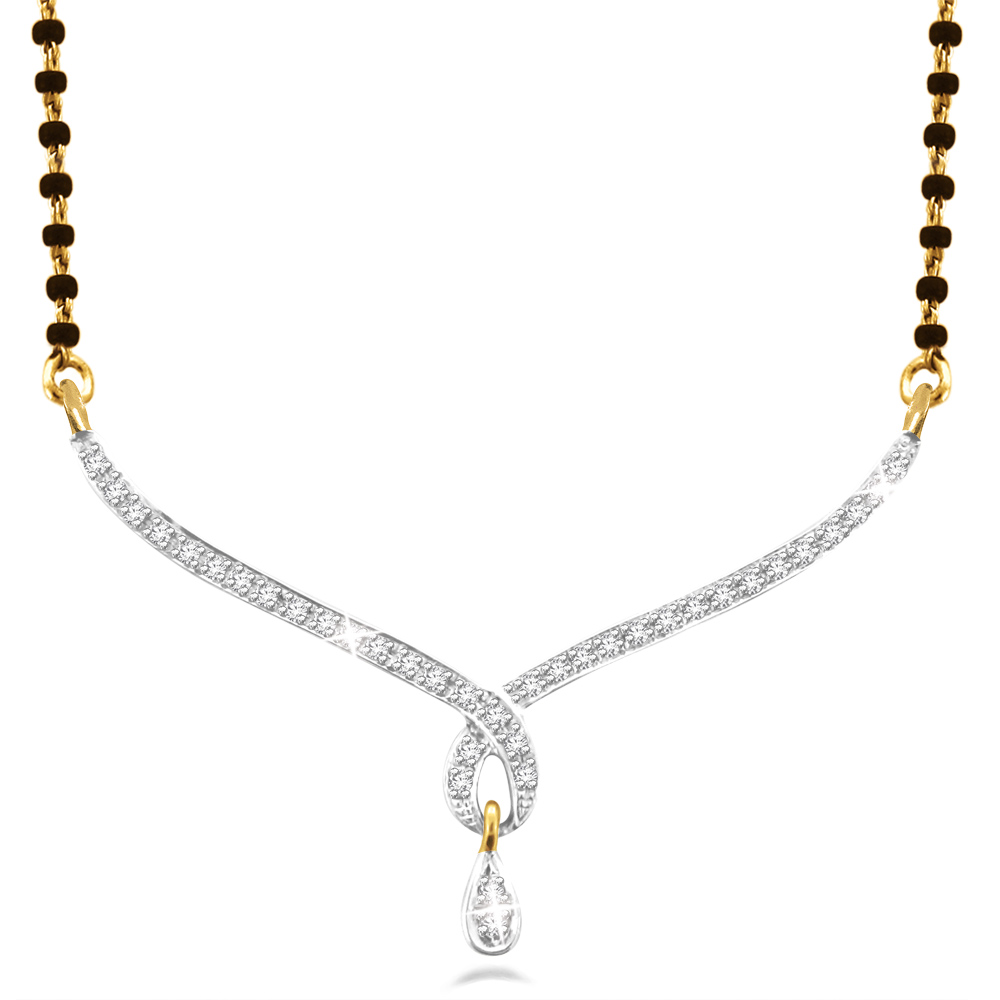 There was a chit also haya open the chit and this is what was written
"i liked this so i brought it for u wear this mangalsutra if u liked it too"
haya smiled and came toward the mirror she removed the mangalsutra which she was wearing and wear the one arjun brought and stare it lovingly then she did house work and at 6:30 she came in room she gone in washroom and took shower she came out in bathrobe and open the cupbaord and look for dress she was not able to decide what to wear then finally she took out a Simple A Line Strapless Sweetheart Long Navy Blue Taffeta Draped Wedding Party Bridesmaid Dress she wore the dress and some matching accessories after getting ready she looked at herself for one last time and smiled seeing her mangalsutra she was coming out just then arjun came inside he saw haya and was mesmerized he couldn't believe that how can someone look so beautiful haya looked at arjun and get scared because of the way he was staring her he came forward and she start taking steps backward at last haya hit the wall and arjun block her by putting his hands on both sides they stare each other and then arjun said
Arjun:put my clothes on bed i'm going to take shower saying this he left in washroom and haya put his clothes on bed and came out of the room after sometime arjun came out ready and both left for party after sometime both reach haya looked at hotel and thought in mind
Haya:just yesterday I run away from there and today I'm back here again arjun saw haya lost and came out of the car he came toward her and open the door and haya came in sense and arjun indicate her to come out and she came out then both came toward the hotel and suddenly haya stop at then entrance arjun saw her and hold her hand and haya looked at him he smiled and both came inside and suddenly rain of rose petals start and Arya looked up haya smiled seeing it and arjun smiled seeing haya then sam, neil, sona, pari and Alan came and welcome them haya get scared seeing Alan but he smiled haya hide a little behind arjun no one noticed but arjun did he hold her hand and they came inside arjun introduced haya to everyone as his wife and everyone congratulate them then haya was sitting alone and arjun was with his business clients just then Alan came and took haya to corner and haya said
Haya:leave my hand Alan saying this she jerk his hand and Alan said
Alan:don't shout haya
Haya:what r u doing
Alan:I just tooju here to say that til I don't say don't leave arjun
Haya:what
Alan:yeah and I promise I won't do anything to ur dad or arjun but u have to stay with arjun till I want but make sure u stay in distance don't let him touch u got it
Haya was confused Alan saw her and said
Alan:do u get it or not
Haya:yes
Alan:good now go and enjoy the party saying this he left and haya stand still trying to understand what happened to him all of a sudden
Next Episode:Haya's Singing Arjun Announced That Nesam's Wedding Will Be In Hotel And Arya's Stay In Hotel As Husband & Wife
—————–
Hey frds h r u all ?
Here is the 20th episode wow I can't believe I'm posting 20th episode of my 5th story well how's it tell me till then bye tc and love u a lot ?????