GINA: ADDICTION (S-2 | E-4) : GAME TURNS TROUBLE
GINA: ADDICTION (S-2 | E-4) : GAME TURNS TROUBLE
---
RECAP– https://www.tellyupdates.com/gina-addiction-s-2-e-3-deepest-feelings
---
@OLEAN RESORT
@THE CAPPUCINO RESTAURANT
KarOvi enters into the restaurant and Dhroovi spots its empty !…
They are wearing these outfits…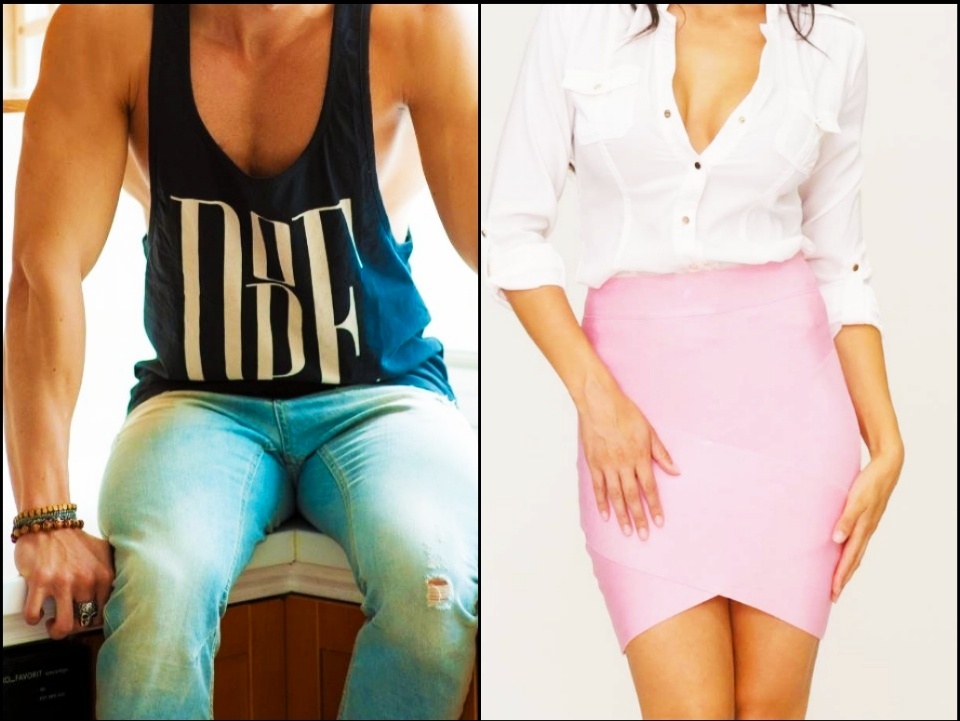 Dhroovi: What the f*ck !…Here its empty !…Why ?
Karan: Bcoz its our resort babe…and today this restaurant is specially booked for us…
Dhroovi: Karan you are incredible…I love you baby…
She kisses him…
Karan: Lets out the breakfast here…
Dhroovi: Yah…but here is no one…ohh…and who is going to serve us the food…
Karan: Dont worry my love dont worry…its already here !…
He comes towards the table and spots some dishes on top…
Dhroovi: Wow…Its looking yummy…
Karan: Special breakfast…Yummy pasta…prawns and a lovely two in one strawberry cum vanila ice cream !…
Dhroovi: Its lovely…Come lets grab all the food…
He holds her hand quickly…
Karan: And after that…?
Dhroovi looks at his eyes and puts fingers on his lips…
Dhroovi: After that…Dessert !…Mmmm…
She moans…
He bites his lips naughtily…
……………
They starts grabbing the food and finishes it quickly…
Finally, Its desert time ??
He throws all the dish plates unknowingly breaking them on floor and passionately puts her on top of table…She stucks the wall for support…
He jumps on the table to kiss to her and taste the so called dessert…
They gets into a passionate liplock…??
He unbuttons her other two other buttons of the shirt and puts ice cream there on her cleavage…revealing her pink inners…
She starts moaning due to his impulsive kissings and he licks on the ice cream and her cleavage both…
He overlaps her whole body and strongly sucks her each sensual portions…
They have a s*xy breakfast together ! ?
@O.HOME
@RUVAAN'S ROOM
Ruhi is busy with her netflix…
She is watching a show on laptop…
Her room is beautifully decorated and flowers are orchids…her favourite…which is inside the white vase…
Ruhi: Hey…Beat him !…Yah…
At a sudden, her phone rings…
Ruhi: Oh shit !…now who is at this moment !…
She gets irked and receives the call…
Ruhi: Hello…
Armaan cries: Diii…Its me !…
Ruhi gets SHOCKED hearing in younger bro's voice…
Ruhi: Armaan…
Armaan nods yes…
Ruhi: Armaan…My baby…my bro…
She is getting emotional but suddenly she recalls all the past incidents and gets scared !…
Ruhi: Wrong number !…(SHE CUTS CALL)
Armaan: Diii…Hello hello di…
Ruhi looks on and gets emotional…Her eyes are glowing due to tears…
Someone hugs Ruhi…
And its RIVAAN…
Ruhi cries: He called me today…But i…
Rivaan: Why dont you forget all those creepy days…Baby its 5 years passed…everything has changed now…you know what i went to met armaan…
Ruhi: What ?…You…
Rivaan: Shaina is out of COMA…She is on bed sleep…i met her too…She fell on my feet and started crying !…
Ruhi looks at Rivaan keenly…
Rivaan recalls…
FB STARTS
Shaina: Jijs…Pls forgive me…i…i was mad for armaan that time…
Armaan: Jijs…pls forgive her…
Rivaan: Shaina…first you wake up…
She cries and wakes up…
Rivaan: Its fine that you are okay…But maybe i have not much big heart that i will forgive you…
Shaina looks on…
Rivaan: But…I can give one chance…
Shaina: Chance ?…
Rivaan: Yah…I may forgive you if…if you make up Ruhi's mind…
Shaina: I cant show my face to her…i will feel death if i face her…i did WRONG with her…i am sorry i cant show my face to her but always will want her happiness…
Rivaan & Armaan looks on…
FB ENDS
Ruhi: Shaina is changed ?…
Rivaan: Her eyes were vivid…it showed me her guilty feelings…she is depressed now…
Ruhi: Should i forgive her ?…
Rivaan: Its ur decission…maybe you should !…
They had an emotional eyelock !…
@SUNSET BEACH
@HAWAII
Dhroovi & Karan arrives there…
Karan is shirtless whereas Dhroovi is wearing a pink-black bikini…
Karan is magnificiently staring at dhroovi and drinking vodka…
Dhroovi is sizzling herself in the water…
Karan: Dhroovi you are really amazing !…ummmaah ?
ON THE OTHER HAND
Nirvana is shown sitting on a foreigner guy's lap and insanely sucking his chest…
Nirvana: You are so hot !…Mmm…?
Guy: Go down babe !…
Nirvana: Yah…
She holds his underwear goes to remove but suddenly her sight falls on KarOvi…
Nirvana stops at that moment…
And goes near towards Karan…
Karan is listening to music and drinking…
Nirvana gets STUNNED !…(VFX- EFFECTS)
Nirvana: Ka…karan !…
FB STARTS
Nirvana: Karan I LOVE YOU !…
FB ENDS
Nirvana starts fuming !…?
FB STARTS
Karan: Nirvana…I DONT LOVE YOU !!…there's only one in my life and that is DHROOVI !!…
Nirvana breaks down…
…………..
She hits a flower vase with a bat…Shatters wall mirror…
Glass pieces are on floor…
FB ENDS
Nirvana in her mind: Karan Oberoi…Its years passed but still you are so hot and sxy…The scars that you gave me on my heart by rejecting me is still alive…i am still torturing myself…and you are enjoying here with your wife…
She smirks…
Nirvana: Your Happy days are over…be ready for the sad days baby !…
She hysterically smiles (VFX- GREYSCALE) ?
She leaves furiously…
@THE ART HOUSE
Nirvana enters furiously and leaves the door slightly open…
Sohan looks at her…
Nirvana: Baby…
Sohan: Btw baby how was your relaxment on beach…
Nirvana: Fine…i had grt enjoyment !…
Sohan smirks: Wow…so good naa…enjoying in beach is really fun…SPECIALLY WHEN YOU HAVE A HOT PARTNER ON WHO'S LAP YOU CAN SIT AND RELAX !!..
Nirvana looks DUMBSTRUCK !!! (VFX- SEPIA)
Nirvana: Baby what are you saying ??…
Sohan shows her a video on his phone…
VIDEO SHOWS ABOUT NIRVANA'S INTIMACY WUTH THAT FOREIGNER GUY !!!…
Sohan: Man…Such a hot scene right !…
Nirvana: Huhh…
Sohan: Now answer me baby…
He GRABS her angrilly and shouts: Why did you BETRAYED ME !!!…?
Nirvana shivers: Sohan…sohan baby I…
Sohan shouts: Bl**dy b*tch…you f*king woman…
Nirvana: I…i…
Sohan shouts: Shutuppp !!…You faithless b*tch !!!…
He angrilly kicks on sofa and berserks the side table…
Nirvana screams: Aaaahhh…
Sohan screams: Why did you f*cked me then !!…you know i hate betrayers like you…Whhyyy ??…whyyy ??…
He rushes towards the kitchen and starts ransacking the whole kitchen…
Nirvana shouts: Sohan stop it !!…
Sohan cries: Whyyy youuu did this !!…Why !!…
He berserks the kitchen chimney and throws it towards Nirvana…
She falls on floor and hurts herself…
She starts getting angry…
Sohan: You heartless B*tch…I loved you and you !!!!…
He rushes towards her and STRANGULATES her…
She looks SHOCKED and starves for breathe !!!…
Sohan angrilly strangles her and it had period Nirvana spots a KNIFE !!!…
Nirvana somehow grabs the KNIFE !!…
Sohan cries: You sl*t you !!!…Aaahhh…
He looks down and finds himself STABBED by KNIFE by NIRVANA !!!…
Nirvana & Sohan looks at each other with DUBSTRUCKNESS !!! (VFX- GREYSCALE)
Sohan cries: Aaa…Aa…Aaaahhhhh…
He collapses on floor…Knife is still stabbed in his abs portion…He is in a pool of blood…
Nirvana gets DEPRESSED !!!!…
Nirvana in her mind: Aahhh…Ohh Nooo…Noooo !…
@SUNSET BEACH
@HAWAII
KarOvi are busy in playing volleyball…
Karan: I will win this time…
Dhroovi: Yah i am seeing this since last 3 games…this is the fourth i will win…now lets stop it…
Karan: Not so soon…woooo…
He shots hardly at the volleyball which travels through air and falls inside the forest bushes…
Dhroovi shouts: Karannnn…
Karan giggles: Sorry !!!…
Dhroovi: Shutupp !!…Now what ??…
Karan: Dont worry i am just back with the ball…
Dhroovi: No need Mr Oberoi !!…Let me go…
Karan: Pucca…
Dhroovi: F*ck you !!…??
Karan: ??
Dhroovi leaves to take the ball….
@FOREST OF JENIS
Dhroovi is walking and walking…
Finally, She spots that ball…
Dhroovi: Thankgod !!…I got this crap !!…
She picks it up…
Suddenly, A man knocks her…
Dhroovi screams: Aaaaahhh…Who are you !…
Its a mad man who is probably of 70s…
Dhroovi: Who are you ??…
Man: That house is so beautiful naa..
Dhroovi spots THE ART HOUSE !!…
Dhroovi: Yeah !!…
Man: Dont go there !!…
Dhroovi: Whhatt ??…
Man: Its a DANGEROUS AREA !!…
Dhroovi: What the f*ck…are you drunk or kidding me ??…
He gives her a torchlight…
Dhroovi shouts: Are you a pyscho no i dont need these !!!…Disgusting !…
She gives it back to him and walks to explore the ART HOUSE !!…
The man looks on…
Man: Poor girl !!…
He laughs hysterically…??
@THE ART HOUSE
Dhroovi sees the door open…
Dhroovi: Such a beautiful architecture !!…I shouldnt go inside but…
She finally goes in…
Suddenly the door shuts !!…
She turns back…
Dhroovi: What the f…
She then spots the things broken on floor !!…
Slowly she moves towards Kitchen and gets SHOCKED !!…
As the kitchen is badly rampaged, She moves back and her leg hits something…
She looks down and gets SHOCKED !!…
ITS SOHAN'S STABBED BODY !!!…
Dhroovi: What the hell !!…Aaaaaahhhh (Screams)
LIGHT GOES OFF !!!…
– 1 HOUR LATER –
@SUNSET BEACH
@HAWAII
Karan: F*ck…Baby is really late…its more than an hour…i should check now…I did a mistake by not finding her before..
He rushes towards the jungle…
— FREEZE —
PRECAP- PROPHECY TURNS TRUTH !!!…
DO SHARE UR VIEWS…
THANKYOU ALL
LOVEnCARE
RiANA