FAMILY- THE BOND WHICH NEVER BREAKS. CHAPTER 21
KHURANA MANSION
A fine and beautiful moring .. all thr family members are present there..
Manav ,Mahesh & Dadaji were discussing some business things..
Aditi & Tanvi was serving Tea to everyone. Dadi, Manish and kavya were in kitchen making some special dish..
Karan-Sameer-Shivanya-Aarti-Ragini-Abhi-Arjun-Adi were sitting in sofa disscusing..
Ragini : Do you guys.. have any idea why this suddrn meeting..
Aarti : Karan bhai.. are you sure any of the family member see you with some girls
Karan : Shut up… if it was like that.. i would have been scolded all alone..
Adi : He's right..
Abhi : But.. i am sure its something so important..
Shivanya : Yeah.. chote chahu.. is in the kitchen itself..
Aarti : Papa.. is used to get into family kitchen .. only on the most important things..
Arjun : Sameer.. why are you silent..
Shivanya (laughing) : I this he has got sowllenness in his mouth.. So quite from yesterday. ( She pulls sam's cheek)
Sam : Ouch.. di that really hurts..
A KNOCK ON THE DOOR..
Aditi & Mahesh goes and invites THE MEHROTRA'S in..
An automatic smile appears on Arjun's face seeing Maya.. Adi slaps on Arjun's back head..
The family members talked aboit many unnesscary things..And they comes to the point..
Aditi : Toh.. jhanviji..What is  Maya & Zoya's opinion about getting into a realtion ship with our family..
Jhanvi : (She looks at Zoya) Zoya is happy with all the decisions we take ..I was only scared of Maya.. But surprisingly she also said yes..
The youngsters.. Standed without any clue..While Maya smiles looking at Arjun.. but arjun gives her a confused look..
Dadi gets and hugs.. zoya and Maya.. them moves to Adi and Arjun then hugs them and congragulates them too..
All other youngster get happy hearing this..
Mahesh knew Aditya's mind set.. sohe suggested that theu should speaks about eachother and they should know about eachother..
Shivanya took Aditya and Zoya to the balcony ..while Ragini got Arjun & Maya to pool side..
POOL SIDE…
Maya and Arjun were looking at eachother.. Arjun really didn't know what to say.. but Maya has already planned about this..
Maya(in one go) : Arjun… i don't really know.. if you like me or not.. if you don't like me please tell it .. If you like me and want to spend your rest of life with me I have a screte to tell you
Arjun : Do you love me..
Maya : Of course…. i do thats why i am here
Arjun laughs out loudly.. Maya looks at him confusingly..
Arjun : Then .. go ahead tell me your screte..
Maya again looks at him..
Arjun : I love you .. infact i wanted to tell you .. but i didn't know.. this will end about like this..
Maya : Arjun.. you first listen to what o say.. there is a chance may be you hate me after i say this..
Arjun looks at her..
Maya : Arjun.. i have experienced a mental..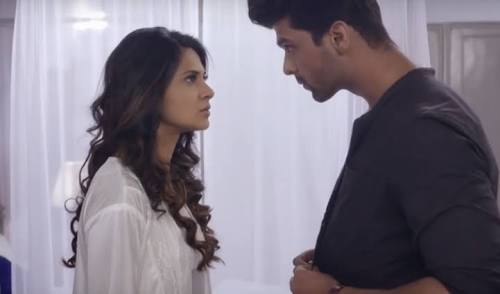 Maya couldn't say any few.. so she give a file to Arjun and then.. walked away..
BALCONY..
Both Zoya & Adotya kept silent for a few minutes..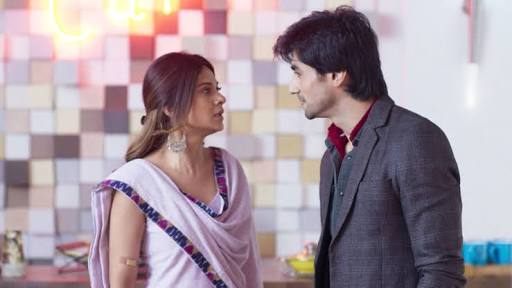 Zoya : Will you say something.. Mr. Aditya
Adi : I would like to ask you something.. Why did you choose me..
Zoya : No.. adi.. can i call you adi
Adi : Of course..
Zoya : This was my families decision and i am just obeying it.. and I don't know if it will be easy for me or you to accept this soon. But i know as time goes.. i wiol be able to
Adi : Zoya.. I have to tell you something.. as.. You are ready for this.. I also want my families happines.. but i have a confession to make.. A few years ago.. i had a relationship.. but it broke down due to…some reason.. please don't ask me why.. be.. because i am trying to for..forget this..but i am not sure.  i will be able to forget it…
Zoya looks at Adi and she sees his teary eye.. She walks away without saying anything..
ROAD SIDE.
Preeta and shrishti are shown arguning in the middle of road
Preeta : Why did you slap sameer.. when he proposed you.. you know sameer is a good boy and is not at all like his brother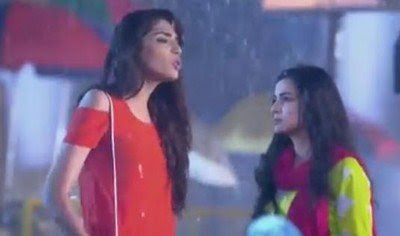 Shrishti : Di.. please.. Once just stand in my place and think what would have i felt when he suddenly siad that to me..
Preeta : Oh.. really.. them tell me how you felt
Shrishti : I felt like something new.. something special.. I saw people playing violene around me.. then suddenly.. i slapped him..
preeta : Thats the thing.. why did you??
Shrishti : I don't know.. i have something for him.. i am not sure its love but there is some connection.. And about the slap.. you always abuses karan by saying he is fraud , flirt , idiot , stupid.. its the same problem with me..
Preeta : But.. thats because..
Shrishti : Now don't ask to much questions.. to me .. i wiĺl get a heart attack..
She goes to a kulfi stall and Buys one and starts eating that..
Preeta : Does… that mean you like him..
Shrishti : ofcourse di..
Shrishti realises what she just said.. Preeta smiles