Do you like Sandhya's Bengali look in DABH?
Diya Aur Baati Hum is running well on Star Plus since 2011. The show has always maintained good tracks and recently shows Sooraj's Kabaddi tournament track. The current track is most talked by everyone as the promo has created curiosity in the viewer's mind about Sandhya's new mission. She has taken a Bengali avatar of Sagarika Das. Sandhya, who is a police officer has gone on a secret mission and she is seen in the disguise of a Bengali woman. Sagarika Das meets terror aide Himanshu Dubey to discuss matrimonial alliance.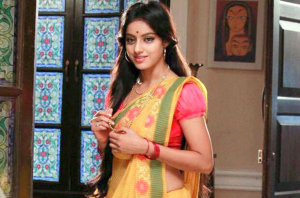 Himanshu examines every little detail of the house. Himanshu asks Sandhya to sing a song by Rabindranath Tagore for him. She did not prepare for that song and cuts her finger to avoid the situation. He checks if he is not being duped by Sagarika and her father Shantanu Das by posing as fake Bengali identities.
Himanshu asks Sandhya if she would like to accept him as her future husband. She smiles and shows her acceptance. He asks her about her decision to hurry up to say yes to him and doubts on her. Sandhya makes a plan and Bharat traps Himanshu in the fake acting. Bharat worries about Himanshu finding out his plot. Sandhya manages to mislead Himanshu that she is really Sagarika Das. Sandhya tells Himanshu that she liked when he took care of her dad and this was the reason she said yes to him after seeing how he is respecting her dad. Himanshu falls in her trap after hearing the requested song from her. He asks Shantanu Das for Sagarika's hand. Sandhya and Bharat move towards their mission. Do you like Sandhya's Bengali look in DABH? Let us know in this poll.