Dangerous Ishq -Arya FF (Chapter 5)
MAYA WAS RESTING HER HEAD ON ARJUN'S SHOULDER.. AND HE WAS WATCHING NEWS..
Maya : Arjun.. please.. change the channel na.. i am getting bored..
Arjun : You all girls are intrested in reality programs and daily soaps.. don't even cares what's happening in the world..
Maya : Oh.. comeon arjun.. its just..
Arjun : Don't make things up..
SHE SUDDENLY NOTICE THAT THE FIRE LAMP SHE PUT INFRONT OF THE IDOL IS GETTING DIM AND IT GOES.. SHE TRIES A LOT TO PUT IT ON… BUT ALL GOES IN VAIN…
Arjun : What happened maya is your god angry on you???
Maya glares at him..
Arjun : I was just joking.. yaar.. kep it cool.. Get ready we have to go somewhere..
Maya : Where???
Arjun : Its a Surprise!!!
ARJUN TAKES MAYA TO A LONELY PLACES..
Arjun : You maya.. you know me.. I .. today i want to tell you something.. that you are my world.. that i didn't know how this haplened.. it just did.. You know.. the day i first say you.. i difn't know that this relation will even workout.. but all those time.. you took intiative.. you were there to give it a chance.. you were there i  my all ups and downs .. you tolerated my anger  … you controled me on my emotions.. .. i didn't realise when you became my everything.. I LOVE YOU MAYA..
MAYA WAS GETTING A BIT EMOTIONAL..
Maya : And our child???
ARJUN KISSES ON MAYA'S BELLY…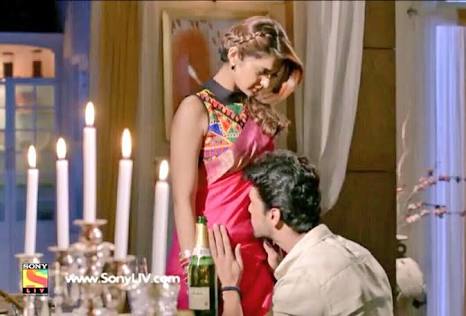 THEY BOTH THEN DINES DOWN & SHARES DINNER.. ARJUN WAS FEDING MAYA
ARJUN'S PHONE RINGS…
Arjun : Maa… you and this time..
Vandana : I am massoorie ariport.. come and pic me up..
Arjun : Masoorie.. at now.. what happened
Vandana : I wanna meet my bahu.. as soon as possible and take care of her.. now just come and pick me up..  There is more that 1hour to finish this..
Arjun : Okay maa.
HE CUTS THE CALL..
Maya : What happened??
Arjun : Maa.. she is here..
Maya : Toh.. lets go and pick maa
Arjun : No.. lets go home.. i will leave you home and then i will go to pick maa
Maya : But why???
Arjun : Because there are maintanace works on the Airpot road.. and that's risky for you..
IN CAR.
Maya : I am thinking of making Aloo ki paratha and sabji.. for maa . What do you think.
Arjun : Great idea… But you will not cook at all. I will bring it from any resturant..
Maya : Please arjun.. you know na… maa likes food preapred with my hand..
Arjun : Stop.. okay that converstaion is over.. and our home sweet home has reached.. so just go..
MAYA WALKS INTO THE HOUSE & ARJUN GOES..
MAYA ENTERS THE HOUSE AND SEES SOMETHING PASSING NEAR HER …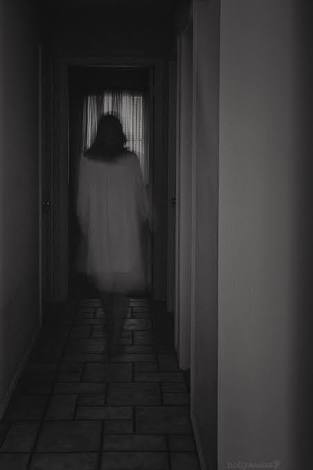 SHE GETS SCARED..
maya : Who.. who is that.. hello.. i am as..asking..you..
NO REPLAY..
SHE TURNS ON THE LIGHT.. BUT DO NOT SEE ANYONE..
---
ARJUN ON HIS CAR.. THE WOMEN AGAIN COMES INFRONT OF HIS CAR..
Arjun : You again..
Women : listen to me.. for once.. Arjun.. She will come back if you don't kill that child of yours.
Arjun : What rubbish .. and who will come back..
Women : If i take her name.. she will get more powerfull… because.  she hates me.. but things get opposite when you does that.. There is only less time.. otherwise she wil take everyone you love…
ARJUN WAS NOT AT ALL INTERSTED IN THE TOPIC.. SO HE GOES WITHOUT HEARING
---
ROSEVILLA
HANDS ARE SHOWN NEAR THE WINDOWS..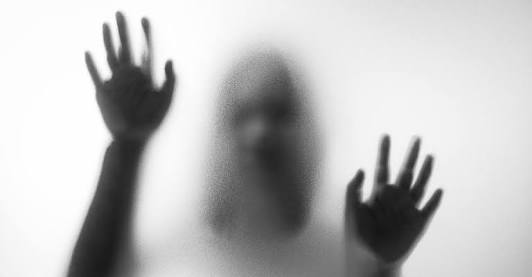 MAYA SEES IT & GETS MORE SCARED.. SHE RUNS OUT OF THE HOUSE..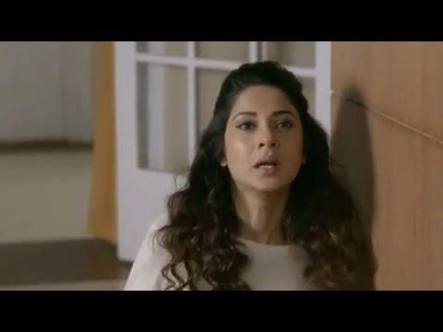 SHE SEES A FIGURE WITH A SWORD IN ITS HAND..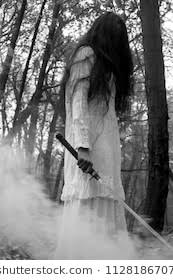 Ghost (in a double voice): Stay Away from.. arjun.. I am going to take him wth me..
SUDDENLY A FIRE BROKES OUT..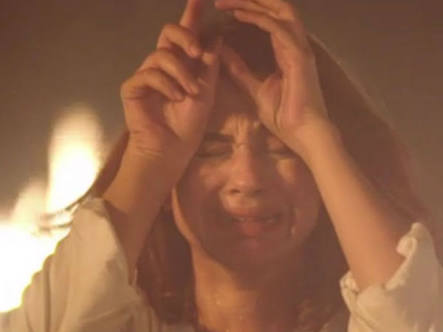 ---
ARJUN WAS ON HIS WAY BACK WITH HIS MOTHER..
Vandana : You leave her alone in the house..
Arjun : Chill maa.  what's the big deal..
Vandana : It is… she is afraid to darkness. and we all know that.. what if she gets panic attacks..
Arjun : I know mom.. and Don't worry.. it will be fine..
ARJIN SUDDENLY INCREASES HIS CAR SPEED.. VANDANA NOTICES IT & SMILES..
SOON THEY REACHES THE VILLA..
ARJUN IS RINGING THE DOORBELL CONTINOUSLY.. AT LAST MAYA OPENS IT..
SHE HUGS VANDANA
Vandana : How are you.. ??
Maya : Are you asking about me or your grandchild??
Vandana : I'm asking both…(to arjun) Arjun i am feeling so hungry .. please serve my food..
Arjun : Sure maa..  till then..you both talk..
ARJUN WALKS INTO THE KITCHEN..
VANDANA TAKES A THREAD FROM HER BAG..
Vandana : This thread was been in the shiv's temple for 41 days.. under the guidence of 100 preits… It will keep you and your child safe from all the bad vibes..
MAYA LOOKS AT IT CONTINUOUSLY.. VANDANA WAS ABOUT YO MAKE HER WEAR.. BUT SHE RESTIST..
Maya : No.. maa.. there is no need of that..
Vandana : Why.. Maya what happened..
Maya : Nothing .. its just that arjun .. doesn't like it.. you know him.. naa
Vandana : Thats right..  did he tell you something..
Maya : No.. maa but i thought to.. I think arjun needs help .. let me look for him..