Dangerous Ishq -Arya FF (Chapter 1)
It was a fine morning. A big mansion is shown..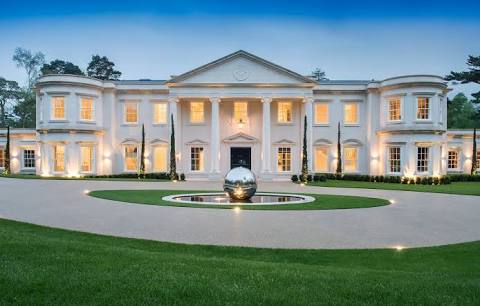 Inside the mansion …
VANDANA & JHANVI ARE SHOWN LOOKING SOME ALBUM…
WHILE AYAAN IN HIS JOGGING SUITS COMES IN..AYAAN SITS NEAR THEM..
Vandana : Oh.. please ayaan go and get freshenup for god's sake you are all sweaten..
Ayaan : Comeon … maa its a symbol of my hardwork…
Vandana : oh.. yeah..  Go and get ready otherwise you will get late for your class..
Ayaan : Wait .. a minute … what are you both looking at..
Jhanvi : Its.. arjun&maya's wedding album.. I really can't belove that its been two years..
Vandana : Yeah… and i really think they should have a family now..
Ayaan : But they have.. right.. us. we are all a family.
Vandana : Not.. us you stupid.. I meant their kids..
Ayaan : Oh..
MAYA ENTERS THE LIVINGROOM WITH COFFE FOR JHANVI & VANDANA AND ORANGE JUICE FOR AYAAN..
Ayaan : Thanks.. bhabhi..
Vandana : Did.. arjun call you or informed anything about his arrival..
Maya : No.. maa.. he didn't and i also thaught not to disturb him.. as his meeting is going.
Vandana : You don't need to do all the works.. you could have informed servants.. you may feel week as your fasting is goingon..
Ayaan : Fasting..??
Jhanvi : Today is karvachawth Mr.Ayaan..
VANDANA & JHANVI CONTNUIED WHAT THEY ARE DOING… MAYA WENT UPSTAIRS FOLLOWING HER AYAAN ALSO..
Ayaan : Bhabhi.. i think bhaiyya is enjoying… he is taking his business trips as a chance to enjoy..
Maya : Shut up.. Ayaan
Ayaan : Yiu should be carefull.. you know my brother is so handsome and all..
Maya : Of course.. ayaan i know that.. and i also knows that he loves me very much..
Ayaan : But he loves me morethan you..
Maya(laughing) : yeah.. that's true… Go and get ready..
Ayaan : You know what.. special letures are so stupid….
NIGHT…
THE WHOLE HOUSE WAS ARRANGED VERY WELL FOR THERE KARWA CHAWTH..
Vandana : Arjun is not .. yet here i don't even he remembers…. He is so forgetable..
Jhnavi : and he doesn't even belive in things like that.. he is doing all this for maya's sake..
Ayaan : I can't even believe..that he has changed his idolegy for bhabhi..
Vandana : You will understand.. when you will fall in love.
Ayaan : But they.. had an arranged one ..
ARYA'S ROOM…
MAYA IS SHOWN GETTING READY… JUST THEN HER PHONE RINGS.. AND SHE ATTENDS IT WITH A SMILE..
Maya : Hello.. Arjun have you reached..
Arjun : No.. I am sorry Maya.. i don't think i will be able to make it upto home..
Maya : But arjun….. its karwa chawth…
Arjun : I know…. its and its not a big deal.. women whose husbands are in abroad.. those also conducts.. it na.. and you know i doesn't believe in it…
Maya : But.. Arjun.. please..
ARJUN CUTS HIS PHONE…
MAYA WALKS INTO THE BALCONY..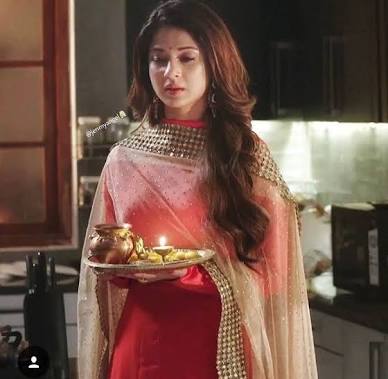 Vandana : What happened Maya.. why are you sad..
Maya : Maa.. its .. Arjun said that he will not be able to make it..
vandana : What..  that's not done.. he can't just..
Jhanvi : Please.. Vandhu.. at last we all knows he is not into this kind of things… but he has done those many times only for maya's happiness.. you can forgive him once..
AYAN LOOKS AT THE SKY..
Ayaan : The moon is up..
MAYA MADE HER WAY.. JUST THEN AYAAN HOLDED HER HAND..
Ayaan : Babhi.. As bhai can't reach here.. he send you a gift..
Vandana : A gift..
AYAN GETS THE GIFT… IT WAS A BIG ONE HALF-OF MAYA'S SIZE… COVERED WITH BLUE GIFTWRAPPING.. AS MAYA OPENED IT.. A PERSON CAME OUT OF IT.. IT WAS ARJUN..
MAYA GOT SCARED AS HE CAMEOUT ALL OF SUDDEN..
Vandana : Arjun!!!
JHANVI WAS LAUGHING AT HIS ANTIC..
ARJUN KNEW MAYA WAS SCARED SO HE GOES AND HUGGS HER..
Arjun : Did you like my gift..???
Maya. : That was scary arjun..
THEY DOES THE KARWA CHAWTH POOJA…AND ALL DINES OUT TO DINNER..
ARJUN FEEDED MAYA…
THEY ALL SAID GOODNIGHT & WENT TO THERE RESPECTIVE ROOM
ARYA'S ROOM
MAYA WAS FOLDING HER CLOTHES WHILE ARJUN WAS WITH IS LAPTOP IN BED
Arjun : Are you upset about.. what i did
Maya : Its not what you did.. you were there and you didn't even once call me.. which i felt really bad..
Arjun : I have planned about a trip to Massorie
Maya : Wow… arjun i really like massorie.. infact i have been there in my childhood.. we will enjoy a lot there..
Arjun : So its final tomarrow we are living.. i will inform Mom..tomarrow.. I am quite sure you will take care of me.. and i will be able to focus on my meeting..
Maya : You have a meeting at there… I thought we were going to have fun..
Arjun : I know… but you … i will miss you..  and i really need you by my side..
Maya : Its okay.. i wil come..
ARJUN PULLS MAYA IN HOLDING HER HIP.. HE COMES ON TOP OF HER…
THE LIGHTS GOES OFF…
NEXT DAY….
VANDANA WAS HOLDING AN ENVOLP.. SHE HANDOVERED IT TO MAYA..
Vandana : You woke late today.. this won't work like this..
Maya : I am sorry maa.. i was having a headache..
Vandana : Its.. okay.. i was just joking.. Arjun went to his office anfmd here is your tocket to massorie.. its a evening flight..
JHANVI COMES AND STANDS NEAR VANDHANA…
Jhanvi : Maya.. please  for god sake .. gives us a good news.. when you come from massorie..
Vandana : Yeah.. you are going to be there all alone for 1 month…
Maya(shyly) : Mom.. and maa.. you also..
Jhanvi : Its been two years.. and we are dying to a grandparents..
JHANVI & VANDHANA LAUGHS…. JUST THEN SAKSHI ENTERS…
Sakshi : It looks like you guys.. are having so much fun..
Maya : No.. fun sakshi.. they were pulling my legs..
Vandana : Why are you saw early sakshi.??
Sakshi : Aunty.. your beloved son asked me to come???
Ayaan : Sakshi.. you are 5 minutes late..
HE GRABS HER HAND AND PULLS HER TO OUTSIDE..
Sakshi : Bye Aunties.. see you at evening
THEY GOES..
Jhanvi: You should talk to her parents..
Vandhana : Sure i will..
MAYA SUDDENLY SITS DOWN DURME TO HEADACHE..
VANDHANA & JHANVI TOOK MAYA TO HER ROOM AND ASKED HER TO REST FOR A WHILE………