Abhigya – Obsessive love Episode 18-20
Hi guys . First of all i really apologise for the late post . I hope you all will understand that i had exams and tests . Now i had time . Soon i am going to have exams so after ending this track i will take a break and come with a new track and continue this ff .
Precap for the current track – Abhi and Maya got married as Maya is pregnant and she blames Abhi is responsible for it . So Abhigya's marriage broke off and Pragya wants to go to Australia to go away from Abhi. Purab , Bulbul , Ranveer ,Ishani , Raghav and Naina accompanies Pragya to Australia and Abhi and Maya comes there for their honeymoon . In Australia Pragya works in her college friend's , Aditya Oberoi's company . It is later revealed in Australia that Abhi and Maya's marriage was a fake marriage and it was all Abhigya's plan to expose her . So what happens next read to know more .
The episode starts with Abhi holding tightly and saying to Pragya – Pragya within 2 days i will say all the truth to Maya that it was a fake marriage and we both are leaving to India and i will marry you on the very next day .
Pragya – Abhishek please listen to me .
Abhi leaves ..
Pragya – Within 2 days i have to do something and expose Maya with proofs
Next scene
Abhi walks to his room . Rabul , Raina and Ishveer stops him .
Abhi – So finally i met you all ..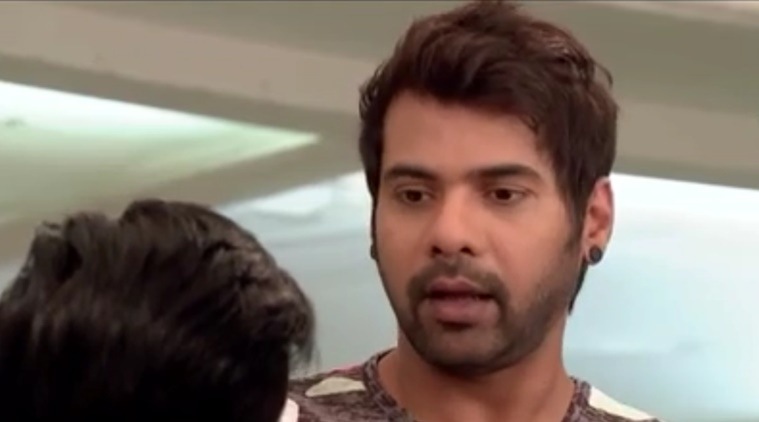 Ranveer – Sorry Abhi we should have trusted you as Naina told .
Abhi – It's ok .. We have to expose that Maya and convince Pragya .
Bulbul – Don't worry Jiju . In today's party everything will be sorted ..
Naina – Bhaiyya did she saw you ?
Abhi – Yes . She saw me and went without saying anything .
Ishani – In today's party everything will be sorted out ..
Abhi thinks in his mind – Today's party Pragya should be only with me
THE PARTY NIGHT
Rabul arrives..
Raina arrives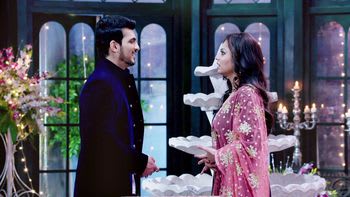 Ishveer arrives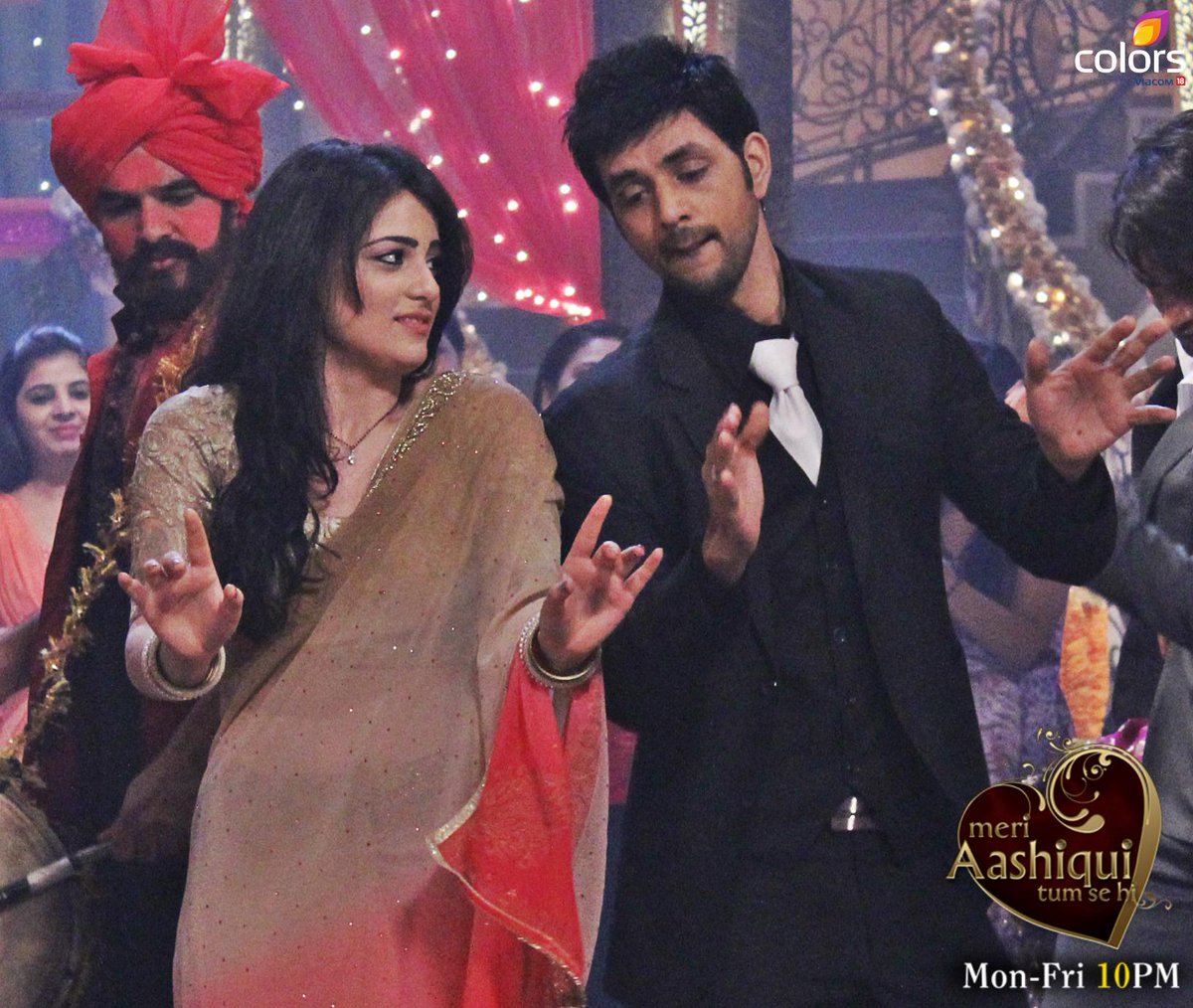 They all met each other ..
Ishani – Bulbul where is Pragya ? we all came still she is missing ..
Bulbul – Don't know di
Purab – Bhai is also not here ..
Abhi and Maya arrives..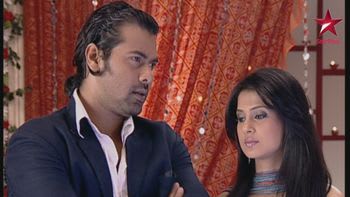 Raghav – See there Abhi is there .
They all signs him Abhi signs them that Maya is here . Maya sees Rabul , Ishveer , Raina talking with each other and remains mum that Abhi should not see him .
The hosts says So ladies and gentlemen let's welcome Mr.Aditya Oberoi and his partner .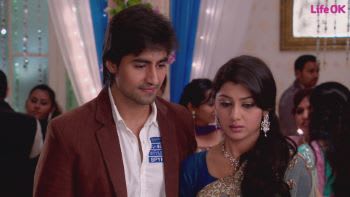 All welcomes them . Abhi sees them together and gets angry. Maya sees Pragya and thinks that she should be more careful . Pragya's eyes searches for Abhi . She sees him and looks worried .
Pragya thinks – No Pragya now Maya is there so you should not be looking worried . She smiles and welcomes guests . Rabul , raina , ishveer all gets confused that why Pragya is doing like this . and they thinks that they have to do something to unite them .
Abhi – Maya you be here i will be back in some time
Maya nods ok . Abhi leaves
Maya gets a call from that strange person . Maya cuts the call .
Aditya – Pragya you be here i will meet the clients and come .
Pragya nods yes .She thinks – Oh no now Abhi will be more angry on me .
Abhi holds Pragya and drags her to a corner .
Pragya gets scared .
Abhi – What do you think of yourself ? Why you are behaving and making me more angry ?
Pragya – Maya is with you so i should be like now i don't have any feelings for you .
Abhi – Please don't say any reasons .. Tomorrow we are leaving to India that's it .
Pragya – But you gave me 2 days .
Abhi – No i can't wait anymore . I know that truth is not going to come out . So let's finish all these drama and move from here .
Pragya – But ..
Abhi leaves from there ..Pragya thinks That's all .. nothing is going to happen today .
Dance starts ..
Rabul dance for the song Suno na sangmarmar…
Raina danced for the song Pyaar ki yeh ek kahani suno ..
Ishveer arrives and they dances for the song janam janam ..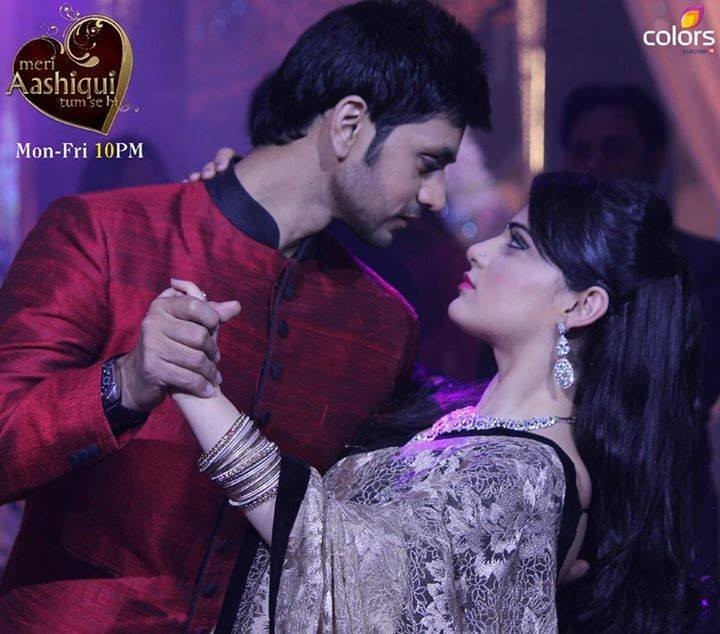 All clapped hands for their performances..
Atlast Aditya goes to the stage and asks Pragya's hand for dance .. Pragya sees Abhi but gave her hand to him..
Abhi sees them dancing and drinks hard and breaks the glass …
He moves from there ..
Pragya – Aditya you be here i'll see Bulbul and come ..
Aditya – Ok ..
Maya gets a message from that person and she leaves ..
Pragya comes to meet Abhi ..
She sees Abhi's hand bleeding and rushes to bring the first aid box .
She does first aid to Abhi .
Pragya – Is it paining ?
Abhi – It is not paining .
He holds her hand and brings to his heart – It is paining in my heart .
Pragya cries and hugs Abhi …Mein phir bhi tumko chaahunga plays ..
Screen shifts to Maya ..
Maya – Where are you ? See i came here .. now why you called me here ?
That person says – Welcome Madam !
She turns and sees it is none other than Aditya .
Aditya – How are you darling ? ..
He tries to hug her – Oops sorry sorry you are pregnant right ?
Maya – Oh come on ! You know that i am not pregnant ..Please stop blackmailing me..
A fb is shown ..
1 year before..
In a Supermodel and fashion designer conference .
All the models and including Maya were waiting for the boss who will decide that who will be the next model for their product .
A dashing man comes down walking in steps .. Everyone says welcome Mr.Aditya Oberoi ..
Maya tries to make Aditya to give her the chance .
Aditya – Tomorrow i will announce the model …
Everyone leaves .. Maya – Shall we have a drink ?
Aditya sees suspicious but says – Sure
Aditya throws his drink and pretends like drinking .. He makes Maya drinks hard and clicks some photos close with her .
After some time . Maya gains conscious …
Aditya – So you woke up .. Just have a look at this ..
Maya gets shocked ..
Aditya – For getting a chance in the contract you have fallen this much . To teach you a lesson i made you to drink hard and clicked these photos . I am living with the memory of only one girl in my life .
Maya – Please let me go and delete these photos . What answer i will say to Abhi ?
Aditya – Ok you go to your Abhishek Mehra but I will not delete these photos . In my life if i need your help surely i will contact you and make you remember these photos ..
Screen changes ..Few days ago ..
Aditya and Maya meet each other ..
Maya – Because of your phone call on that day now my Abhi left me . Now what do you want from me ?
Aditya – Now you have to go again in Abhi's life . So you will get your love and i will too , My love , My Pragya . Do as i said and then i will delete all your photos ..So deal ?
Maya smiles and shakes hands ..
Fb ends ..
Aditya – You know how much happy i was when i danced with Pragya !.. Pragya will only be mine forever ..
Pragya – I will never be your Aditya Oberoi ..
Abhi – Pragya is only mine ..
Rabul , Raina , Ishveer too stands there
Aditya and Maya gets shocked …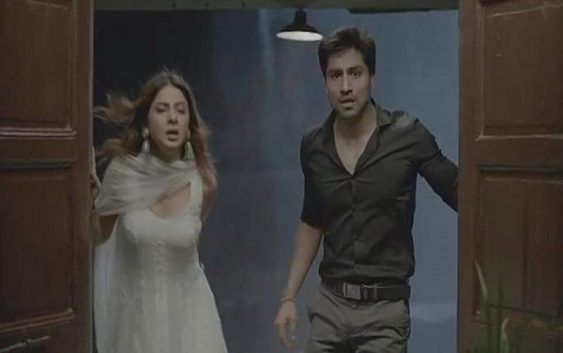 Precap : Aditya kidnaps Pragya . He says to her 'There is only 2 options . We have to live together or we have to die together . Pragya looks on .