A SMALL LIFE WITH LOT OF DREAMS……[ Part 2]
So friends, I am back with the short episode of this ff……..Here are the links for previous ones….http://www.tellyupdates.com/a-small-life-with-lot-of-dreams-part-1/
Pls read all parts and kindly drop your views when you gets time….Guys, i didn't received any comments and much likes for this ff, but still I am writing this one because it's just my wish to write on my favorite actors which I likes very much in kannada film industry…..There is not any compulsion for reading, but still if u finds it as worthy, then just drop a single comment here…… It will certainly encourage me and if you don't like also, then be free to express your view as comment ……I am sorry if I have wasted any one's time by submitting this article…..
Okay, now let's move to the story….
@ Basavapura, Mangalore…..
A small house is been shown and a middle aged woman is doing aarti ….Gireesh, Vinutha and Shyamappa arrives there and look @ each other…..
Gireesh : I think paapa hasn't arrived ……If maa will see my face, then she will start telling me so many things and I don't want to become myself as a joker here….
Shyamappa : Gireesh, why she  will scold you ?? You are her son and today by winning the first prize you have made her to feel proud only…..
Vinutha : Exactly, gireesh…..Listen, first I will talk with shantamaa [ that's the way vinutha calls grieesh's mom shantha] and will convince her……You stay here with paapa…..[vinu gets into the house and gireesh stands outside with shyamaapa only]
As soon as vinu enters home, she hears gireesh's mother's voice more closer…..She was singing "Om Jai Jagdeesh Hare" for doing aarti…..Vinutha folds her hands and closes her eyes…For a while, she lost herself in that voice…..As soon as the aarti was over, shantha maa turns back and finds vinutha….She smiles and moves closer towards her…..
Shantha : Vinutha!!!
Vinutha opens her eyes and takes the aarti ….Shanta gives prashad to her and walks outside…..
Shantha : Shyama bhai, aap!!! Namasthey……
Shyamappa : Namasthe behan…..
Shantha offers aarti and prasad to shyamappa also…..
Vinutha : Shantha maa, wooh gireesh….
Shantha handovers the aarti thaal to vinutha and signs her to deal with gireesh…….
Gireesh : It's okay, vinu…..No need of showing any concern towards me……..Maa doesn't wants my presence in any of the good deeds which happens in this home……
Vinutha : Gireesh, why are u saying like these ?? Pls keep quiet ….Let me talk with shanta maa…. Shanta maa, you know what today gireesh has achieved first prize in music …
Shantha : [interrupts] This music can't bring roti to our home, vinutha……I hate myself for teaching him music now…Just because of his craze towards music, he is not concentrating in his studies and that momento in his hand is reminding me my failure only……See that shelf, it's filled with so many cups and momentos which he gained for music……And see the middle part of shelf, u can find a gold medal which is achieved by chandru [chandra sekhar] ……That's the power of gold and before it, these cups are nothing……..Chandru received special mention from principal and Mrs.Neelima shenoy has sponsored huge amount for chandru's higher studies also…….I am doing this aarti now because my chandru will be here within few hrs and I don't want any kind of hindrance on his path…….
Gireesh : Maa, you want to say that I creates prblm for chandru…..
Shantha : Not you, but your craze towards music, just because you sings, he also does little bit of singing and I don't want chandru should give importance to music as it can deviate his aim of becoming doctor…….
Shyamappa : Don't be these much rude, behan……Gireesh and Chandru are brothers, they are your sons……And just because gireesh is a singer, you are separating your one son from the another one is not right…..
Shantha : Shyama bhai, I have much respect for you and you are my husband's intimate friend , you are not supposed to interfere in our personal lives….It's purely an issue between me and my son gireesh…….I hope you got it……..[shantha goes inside showing attitude]
Vinutha, gireesh and shyamappa gets disheartened with shantha's words…..Gireesh throws the momento and keeps the violin before shyamappa's feet…He bends at his own knees and stares shyamappa's eyes…….
Gireesh : Take this with you, chaacha………[he folds his hands with teary eyes] I am sorry…..
Shyamappa : Leave it son, I am not hurt ……..And this is my  gift to you…….Pls don't reject it……
Gireesh : My maa doesn't likes me as a singer…..If this violin is with me, then I won't be able to control myself from playing this one…….Pls…..Viuntha, take this violin and if possible then pls leave this home with your paapa as soon as possible…..
Vinutha : Gireesh !!!![ shocked]
Shyamappa : Let's go, beti……..Why we are here when no one doesn't wants our presence……
Shantha : Vinutha, shyama bhaai……Have this coffee…..You are our guests……Who one comes as guest in our home, we won't leave them to go without having anything from our home……
Vinutha : Thank you, but we don't have hunger…..
Shyamappa : Vinu!!! this is not the way to talk with elders….
Vinutha : Paapa pls……I don't want any one should insult you , even if it's some one elder than me also……We have to remind this always that now we are just guests only, there is no behan here, there is no friend here……Why we should stand here as guest to give them trouble ?
Shyamappa : Vinutha…..Be calm………I said it because of my bond with beemarao [ gireesh's dad] who told me that his wife is my little sister and his sons are my my sons also…….But I forgot the fact that I have no rights to talk in between a mother and son as they have a blood relationship whereas gireesh and me didn't share any blood relationship…….
Viutha : Paapa!!!!
Gireesh : Chaacha !!!
Shyamappa : Let's go beti…….
Shyamappa and vinu leaves….Gireesh calls them from back….But they didn't stops……
Gireesh stares at his mother……
Shantha : Now you are going to kill me with your sight, won't you ?? What I said is bitter, but it's the truth only……And truth is always bitter ……Any ways I am keeping the coffee here….If you want you can have it…....
With much anger gireesh picks the coffee mugs and throws them…….
Shantha : So you have broken them, is it ? Two coffee mugs, milk, coffee powder, sugar all those has become waste……Now I need to count how much we have lost money……Cups will be around 200 rupees and sugar....
Gireesh : Just stop it maa[ shouts] [gireesh takes some currency notes from his pocket and gives them to shantha and raise the sound of his scooter]
Shantha : Why are u showing these much attitude towards me ?? And don't do any harm to this scooter…..This is your paapa's scooter, not yours…….Remember it…..Now listen me, go and pick chandru from the railway station….The train will be at the station within few minutes…..
Without saying anything gireesh quickly starts the scooter and leaves home…….
Scene shifts to railway station……
Gireesh arrives there and finds chandrasekhar standing at the exit with a smile…….
Gireesh : Chandru……
They hug each other tightly and smiles……
Chandrasekhar : Chotu, how are u dear ??
Gireesh smiles with wet eyes …….
Chandrasekhar : What happened to you ??
Gireesh : Nothing, you still calls me as chotu…….Whereas in home …..[ gireesh recalls shantha's words]
Chandrasekhar : Hey, where you lose yourself ? Is everything fine ??
Gireesh : Yeah, everything is fine…..And tell me how is your life ?? I mean now you are on almost on the verge of completion of studies……
Chandrasekhar : It's going good and I am practicing as duty doctor also……
Gireesh : Wow, that's really amazing……You are wonderful chandru…..
Chandrasekhar : And what about you….
Gireesh : Me, First Class…….I am the 19 yrs. old gireesh who keeps rocking in his life…….
Chandrasekhar : That's right……My bhai is in his college days and I am living in the world of medicines, patients and many big medical terms…..But for now I am getting a break for few days and I want to spend this time with my family especially with my chotu…….[chandru pinches gireesh's cheeks]
Gireesh : Aah!!! Your habit of pinching my cheeks haven't changed till now…….If people will see Dr. Chandrasekhar doing these things, what will they think ??
Chandrasekhar : First I am the brother of my chotu, then only I am a doctor……Got it ??
Gireesh : Okay, Okay…Let's go…..Chandrasekhar runs his fingers on the scooter…….
Chandrasekhar : Do you remember lastly when I sit in this scooter ?? The day when I was going bangalore for doing MBBS…….I was sitting behind you and you asked me to hold tightly, because that was the first time when I sat in the scooter…..You still keeps paapa's scooter with you, whereas I thought you would have bought a bike for you…..
Gireesh : Nothing can replace the space of this one as this knows me very well……..This scooter has seen various shades of me……Any ways, leave this things and let's go….Maa is waiting for you…….
Chandrasekhar : Yeah, let's go……..
Scene shifts to the house of beemarao and shantha…..
Actress saroja devi as Mrs. Neelima Shenoy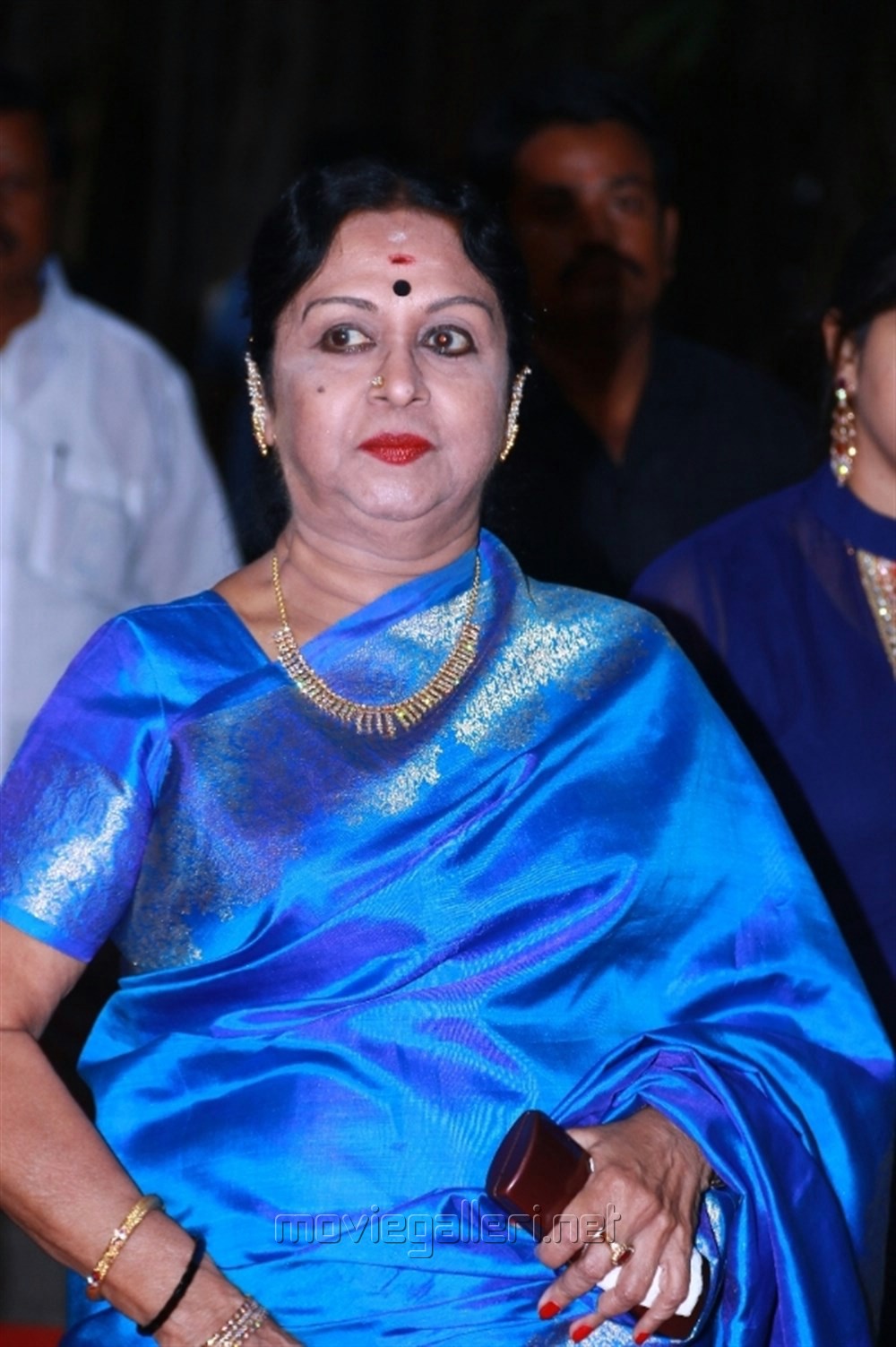 Mrs. Neelima Shenoy arrives the home …..Shantha gets surprised to see her…
Shantha : Neelima Mem Saab……..Pls come in and take your seat……What would like to have ? Tea, Coffee..
Neelima [smiles] : Just a glass of water only…….Mmhh, where is our future doctor, chandrasekhar ??
Shantha : Ji, wooh…..he might be coming soon…..I have send gireesh to pick him……
Neelima : What ? Chandrasekhar will travel in that old scooter…....See, shantha, those days have gone for chandrasekhar when he struggled much to earn and save a single penny…. It's the time  to make a change…..He is becoming a doctor and he should keep a status and dignity for his profession…….If people will see him travelling in scooter, the whole village will make fun of him……A doctor means not only a doctor, but also a man whose looks is been judged by this world……You should have informed me if there was  no money for sending a taxi, I would have send my driver……
Shantha : No memsaab……Already you have done so many things for us…….You are so kind hearted woman……In today's world who can find a person from rich family who helps these middle class ??
Neelima : Oh Come on, Shantha…..Don't be senty……By the way if I am helping chandrasekhar, then I too want a favor from him…….I hope he will accept it……
Shantha : Of course, mem saab…….Order me what can I do for you ?
Neelima : U often tells me about your dream of having a dollar bahu, still you watches that dream ??
Shantha : Wooh……memsaab……..it's not necessary that all dreams can come true…..
Neelima : And I say this dream can turn as true then…..
Shantha : What !!!! [shantha gets surprised]
On the other hand, Vinutha receives a msg from gireesh on her phone…..
Vinutha : Chandru is Back…….[ vinutha smiles and gets excited] But how can I go there ?? I don't want to see shantha maa's face …….What to do ??
Viutha gives a reply msg to gireesh and gireesh reads it…..He stops the scooter in middle…
Chandrasekhar : What happened ??
Gireesh : Chandru, why don't we go hanuman temple ??
Chandrasekhar : Why ??
Gireesh : Just like that…..We use to visit that temple and spend much time there……Before reaching home, we just go and have a glance of hanumanji……
Chandrasekhar : Not bad…….I feel so gud to visit there…….Let's go……
Scene shifts to temple….
Chandru finds viuntha standing at the temple and ringing the bell….
Chandrasekhar : Vinutha!!!
Vinutha turns back and smiles…. Vinutha : Hai Chandru…….[ stares gireesh's eyes and nods her head]
Gireesh nods his head with a smile and looks vinutha……
Gireesh : Guys, You both talk with each other…….I have some work…….
Chandrasekhar : Hey chotu, where are you going ??
PRECAP : HANGING IN SO MANY DESIRES AND LIVING IN A CONFUSED LIFE, WHAT WILL A PERSON DO ?? DOES HE WILL TRY TO FULLFIL DESIRES ? OR DOES HE WILL MAKE ATTEMPTS TO SORT OUT CONFUSIONS???? 
Upcoming Attractions
Arrival of Taara [ Daughter of Mrs. Neelima Shenoy]
When relationships are sold before money…..